Before marrying Jessica in 2002, Nick was best known as one-third of the platinum-selling group 98 Degrees. By the time Newlyweds debuted in 2003, Nick had left 98 Degrees and released his first solo album, SoulO. The single "This I Swear" was used as the Newlyweds theme song. A few months after Newlyweds ended, Nick released his second solo album, What's Left of Me. The title track featured lyrics many speculated were about the end of his relationship with Jessica and the video, which starred MTV VJ Vanessa Minnillo, was a hit on MTV
Prior to Newlyweds, Jessica had several hit singles, including "I Wanna Love You Forever," "Irresistible" and "I Think I'm in Love With You." During the first season of Newlyweds, Jessica released her multi-platinum-selling third album, In This Skin. The video for the hit single "With You" had a Newlyweds-inspired theme. After the final season of Newlyweds aired, Jessica released the album A Public Affair. The video for the title track featured Eva Longoria, Christina Applegate and Ryan Seacrest.
While Nick and Jessica have moved on in their lives, their time as Newlyweds will live forever in our hearts and on MTV.com.

Jessica Simpson and Nick Lachey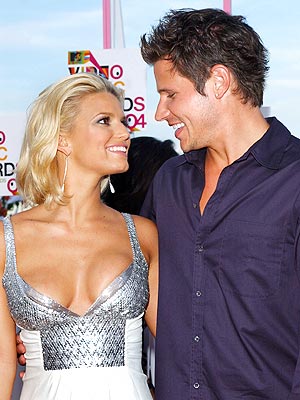 Jessica Simpson and Nick Lachey