Angelina Jolie & Brad Pitt want to adopt a Chinese baby?
Can you believe that the adoption rumors are already starting up again? Jeez, give the woman a break. Angelina Jolie just gave birth to twins Knox Leon and Vivienne Marcheline last month.
Reportedly, she is so touched by footage of the recent earthquake in China, that she's looking to adopt a Chinese orphan.
A source says, "Angelina is devastated over the earthquake that occurred in China in May. She has been in constant touch with relief workers as part of her UN involvement, and even got her hands on photos of a few orphaned kids. She's made overtures offering a home to one earthquake orphan, or even two if they are siblings."
I mean, Brad did say that they'd crap out like eight or nine kids before they're done. They've got six now, so it's not unconceivable to think that they'd adopt some more children.
Hey Chinese kids, try to look really sad for your Brad and Angelina scholarship fund pictures. Also, it'll help if your name ends with an X.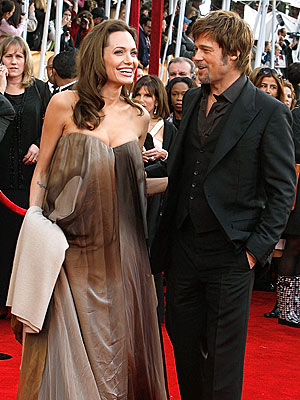 Angelina Jolie Brad Pitt